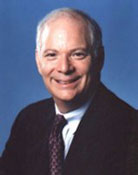 Benjamin Louis "Ben" Cardin
(born
October 5
,
1943
) is a
Democratic
member of the
United States Senate
representing the state of
Maryland
. On
November 7
,
2006
, Cardin was elected to the United States Senate seat being vacated by
Paul Sarbanes
, having defeated Republican challenger Lt. Governor
Michael S. Steele
.
Political career
Cardin served in the
Maryland House of Delegates
from 1967 to 1986. He was chairman of the Ways & Means Committee from 1974 to 1979, and after that
Speaker
until he retired from that house. As Speaker, he was involved with reform efforts involving Maryland's property tax system, the school financing formula and the ethical standards for elected officials.
House of Representatives
As of May 2006, Cardin served on the following
House committees
:
Member of the
Ways and Means Committee
.


Ranking member of the Trade Subcommittee.
Member of the Human Resources Subcommittee.
Ranking member of the

Organization for Security and Co-operation in Europe

. Committee assignments